This question and answer was first posted on the Artdaja website. Editor.



Lucy Jones asked, "I'm curious to know more about esoteric art. How is it different from abstract or pop art? Is there any inner meaning or are they just colourful pictures? Some of your pictures I really like. Can you tell me how you developed this style?"



"When I was a young man I used to paint what people wanted. Mostly landscapes, still life and portraits. I did paint a small collection of abstract/pop art and a collection of female nudes.

Later, during my spiritual journey, the 'turning point' occurred and it changed everything including my style of art. There was no longer any interest in copying what was out there, like landscapes, people or still life. The challenge now was to create impressions from the new subjective horizons that the transformation had revealed. There was no actual development of this style, it is simply the way I express these internal impressions. For want of a name I call this style 'esoteric art'.

Perhaps a little background on how the abstract art style developed may help. The great English painter JMW Turner, whose later work became more and more abstract, was an influence on Claude Monet who was a core member of the impressionist movement. From that movement Paul Cezanne, experimenting with spacial volume and colour as structure, set a basic foundation for Cubism which Pablo Picasso and Georges Braque developed. Another influence was Georges Seurat's system of Pointillism, that is making pictures from tiny coloured dots. Many artists of this time experimented with these techniques like Piet Mondrian, who then went on to revolutionise abstract art.

I believe Mondrian said that, as man becomes more intelligent he will express himself more and more abstractly. He developed the idea of plasticity and wrote a book, 'Plastic Art and Pure Plastic Art' (1937), in which he defines his theories on neo-Plasticism.

The American artist Jackson Pollock added a new dimension to abstract impressionism with his remarkable 'drip paintings'. I believe Pollock said that, an artist need no longer look outside of himself for inspiration, inspiration can now come directly from within the artist's mind. Pollock's gift was to convey subtle feelings through his paintings.

Hans Hofmann, a German painter who lived and taught in America most of his adult life, bought a dynamic impact to abstract art. He was a friend of Picasso and Matisse, and in his art Hofmann created a unique form of synthetic Cubism. In many ways his art surpassed his contemporaries and the founders of modern art. His technique of 'push and pull' is now a standard in the art world.

Today one of the greatest living artists is Howard Hodgkin. He has the gift of conveying feeling in his unique form of art. He would, understandably, object to being called an abstract expressionist. Yet his development of the style will go down in history.

There are hundreds of artists who could have been mentioned for their contribution to New Age art, but this is just a brief background to convey something of the great artistic momentum that is still continuing. Esoteric art is a very small part of the continuation of this artistic momentum.

I do hope that this, in some way, has answered your questions." David (dbm).
Examples of David's esoteric art: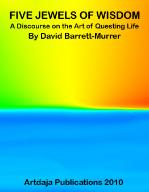 Ebook cover 'Tranquility of Mind'.

Ebook cover 'Waterfall'.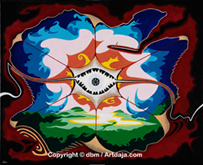 Om mani padme hum.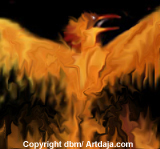 Phoenix.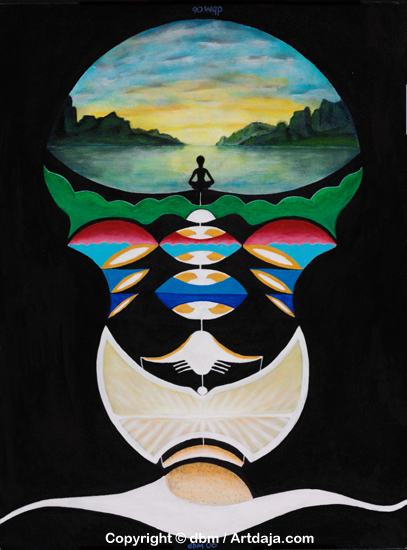 Chakra Maya (Man's View)