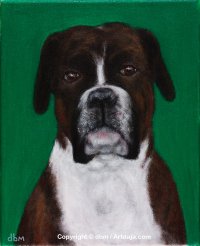 Hi Guys. My name is Bruno Boxer, nicknamed Big B, now I've got my own page on this forum. You can ask me anything and get my dog's eye viewpoint. Also, I will share some of my

adventures.

Big B

This is my Open Forum Wall. Ask Away.
You can post here,

please change the subject to match your question

, or, you can start a new topic for you question. Ask away and have some fun.

If you would like to ask Bruno a question and remain anonymous then send him or me a private message and sign it: Anon or Guest with a gender name like John or Jane. Editor.
Visit Bruno's Facebook page:
http://www.facebook.com/profile.php?id=100000871536804